WiDS Spanish Workshops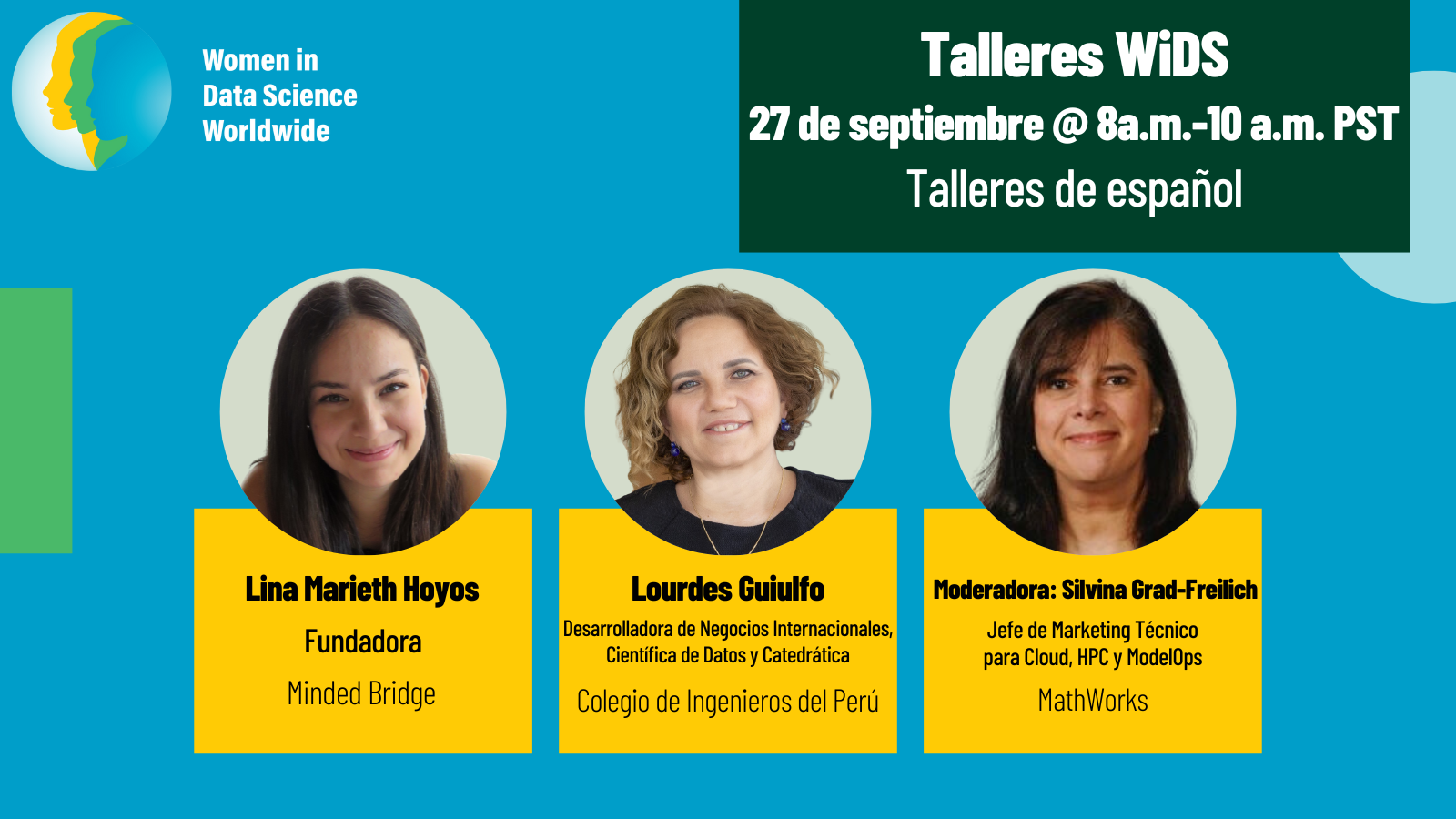 Summary
This month the WiDS Workshops will be presented in Spanish in honor of National Hispanic Heritage Month.
Como enseñarte a ti mismo Procesamiento de Lenguaje Natural por Lina Marieth Hoyos
El Procesamiento de Lenguaje Natural (PLN) ha cobrado una alta importancia en los últimos años a medida que la cantidad de datos disponibles ha crecido exponencialmente. El PLN cuenta con una amplia gama de aplicaciones, desde reconocimiento de voz y traducción automática hasta análisis de sentimientos y chatbots.
Existen muchos recursos disponibles para aprender PLN, incluidos cursos en línea, libros de texto y trabajos de investigación. Debido al creciente reconocimiento del PLN, aprender sobre este tema se ha vuelto esencial. Pero una pregunta que recibo con bastante frecuencia es: ¿Cómo empezar a aprender PLN? En este taller, compartiré un camino de aprendizaje para comprender y usar el PLN. ¿Y qué mejor forma de hacerlo que enseñándonos a nosotros mismos?
Big Data, Inteligencia de Negocios y Transformación Digital por Lourdes Guiulfo
El objetivo del taller es mostrar cómo se aborda el Business Intelligence y el Big Data en las organizaciones. Compartir testimonios de negocios brindados por ejecutivos líderes. Adicionalmente, la idea es hacer ejercicios prácticos creando un par de Analíticas y se mostrará cómo. La audiencia podría interactuar compartiendo sus resultados en ese momento o más tarde. Para la práctica, los asistentes necesitarán PowerBi Desktop y la posibilidad de compartirlo en la web para todo el público.
This Workshop will be moderated by Silvina Grad-Freilich, Head of Technical Marketing for Cloud, HPC, and ModelOps at MathWorks.
Event Program
September 27, 2023
8:00AM-9:00AM
Como enseñarte a ti mismo Procesamiento de Lenguaje Natural
Lina Marieth Hoyos
9:00AM-10:00AM
Big Data, Inteligencia de Negocios y Transformación Digital
Lourdes Guiulfo
*All times are UTC +7