February 10, 2017
What Machine Learning Can Do for Healthcare | Finale Doshi-Velez | WiDS 2017
About This Video
Healthcare is an area where data science and artificial intelligence have tremendous potential to improve lives and where significant methodological advances are needed to achieve that promise. In this talk, I will highlight clinical needs in which data science can help — accurate diagnosis, long-term disease management, and personalized treatment — and also the hard, interesting methodological challenges — particularly in robust inference and interpretability — that will be part of the solution. I will do so by sharing examples of work from our group, which focuses on learning timeseries and sequential decision-making models for health applications ranging from better understanding autism spectrum disorder to managing patients with HIV or in the ICU.
Dr. Finale Doshi-Velez from Harvard University describes how machine learning is optimizing treatment for HIV patients, and beyond.
In This Video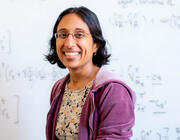 Gordon McKay Professor of Computer Science, Harvard University
Finale Doshi-Velez is a Gordon McKay Professor in Computer Science at the Harvard Paulson School of Engineering and Applied Sciences. She completed her MSc from the University of Cambridge as a Marshall Scholar, her PhD from MIT, and her postdoc at Harvard Medical School. Her interests lie at the intersection of machine learning, healthcare, and interpretability.